Everyone loves a good hack that makes life more simple, more hip, and more fun. RVs are prime spots for life hacks because you have to figure out how to pack a lot of adventure and equipment into just a few hundred square feet. RV hacks go a long way in making your life easier!
Even the smallest space-saving and decor tips can add to your adventure experience. We at Outdoorsy are all about experiencing the road in comfort and style. That's why we've put together this list of RV hacks, tips, and tricks to keep you rolling in life-hacking bliss.
RV Tips to Make Life on the Road Easier
These are general ideas to combat some problems RVers frequently encounter while on the road.
Tip #1: Motion Sensor Lights
Closets and other tight spaces in RVs are usually poorly lit. You can easily remedy dark spaces with affordable LED lights that are motion-activated.
Tip #2: Cushion Low-Hanging Areas
Creatively cushion head-banging areas to soften blows. RVs are notorious for having short entry doors and intrusive cabinet fixtures that are waiting to bump the heads of anyone over five feet tall.
You can remedy this with a simple camper hack. By hanging decorative items like string lights, greenery, and micro-sized garlands in a doorway and on offending cabinets, you can beautify low-clearance areas in your travel trailer while deterring any would-be head-banging. 
Tip #3: Move-Proof Your RV
One of the best tips for RV living is creating a camper environment where you don't have to prep every time you get on the road. If you have a bunch of loose, decorative items around your camper, you will need to safely stow them when you roll. That's why a move-proof camper is such a great RV-life hack. By safely securing decorations with magnets, Velcro®, and/or Command strips, you can dramatically cut down on the amount of time you need to prep your travel trailer before getting back on the road.
Tip #4: Invest in a Tire Monitoring System
If you tow a travel trailer and experience a flat, you could do thousands of dollars in damage before you know it by dragging your trailer on the road. This is why a tire-monitoring system is a necessary travel trailer life hack. The system will help keep you safe and on the road.
Storage and Space-Saving RV Hacks
Running out of room in your rig? Try these space-saving and storage RV hacks.
Tip #1: Stylishly Protect Glassware
Glass cups, mason jars, and wine bottles are all fun things to have in your travel trailer, but the road trip can easily break them. One RV-living hack involves using things like old koozies, burlap material, and fun fabrics to create fashionable protectors for these fragile items.
Tip #2: Create a Hidden Pet Nook
Many RVers have pets who would love a cozy spot to call their own. That's why finding a place for a pet cranny is a great RV hack that'll keep the furball happy. Is there a cabinet door you can remove and insert a puffy bed to let Mr. Butters call his own? Doing this will not only help your pet feel happy and secure on the road, but will also free up space on the floor or bed.
Tip #3: Turn Your Microwave Space into a Bar
Ditching your microwave might seem like a controversial idea, but many RVers are of the mind that a microwave is a useless device if you have an RV stove and oven. After all, when space is at a premium in an RV, why devote a chunk of it to an energy-hogging microwave if you don't have to? If you're open to ditching your microwave, the space left behind is usually perfect for creating a bar area in your RV.
Tip #4: Invest in Turkish Towels
The pinnacle of RV-life hacking comes when you can snag multiple uses out of one beautiful item. Turkish towels are towels, blankets, and shawls rolled into one. Here's a whole list of ways to use your new towel.
DIY RV Upgrades
Upgrading your RV doesn't have to mean costly renovations and equipment. Try these RV tips for DIY upgrades.
Tip #1: Buy a High-Pressure Shower Head
RVs are infamous for their low-pressure showers. You can improve life in your travel trailer by snagging an Oxygenic shower head to provide a high-pressure shower even when your campground has low water pressure.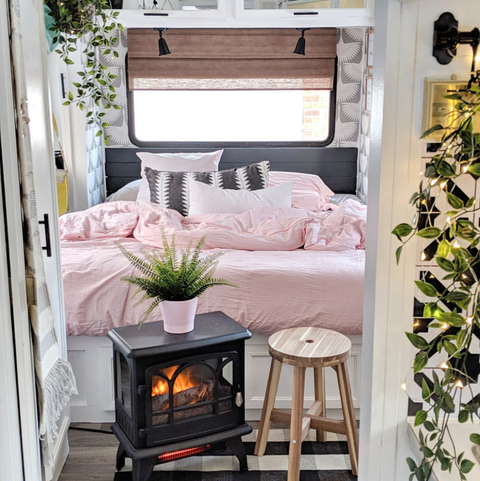 Tip #2: Spruce Up Your RV with Fake Plants
Faux has gotten a makeover, and you can now hack camper life by bringing maintenance-free plant life into your rig. Check out these fake plants that look real as life.
Tip #3: Rewrap Rather than Reupholster
Travel trailers don't always have the prettiest of furniture, and it can be tempting to want to pay someone for reupholstery. One travel-trailer tip is to wrap the old furniture yourself with new fabric. This trick will save you a bundle and allow you to redesign your RV to your liking.
Peel and stick tile has come quite a ways over the years and will allow you to design hack your RV by easily adding a backsplash or tiled area around a shower. See how easy it is to install in this video from TrailerLifeDIY.
Must-Have Gadgets for RVers
It's no secret that there's no shortage of nifty gadgets out there for campers. While you always want to pack light, here are some gadgets that RVers love.
–Pop-up fire pit: A folding fire pit is a travel-trailer trick that'll keep your s'mores cooking no matter where you are. As a bonus RV hack, snag this optional grate to have your fire pit double as a grill. 
–Inflatable air lounge: Why not hack camper life with a comfortable outdoor bed that takes up a tiny amount of space? An air lounge is an inflatable piece of furniture that'll allow you to enjoy the outdoors in comfort.
–Pop-up lanterns: Because you always need light and compact things are a must to hack travel trailer life, try these pop-up lanterns.
–Folding bikes: RVing and cycling go hand in hand. There are simply too many nice biking trails out there not to explore. Folding bikes give you max fun while saving max space in your RV.
–Nested cookware: Why have a smattering of pots and pans when you can get ten pieces to stack into the space of one? The space-saving utility makes nested cookware the ultimate RV-life hack.
–Smart space heaters: RVers tend to use space heaters as a supplemental heat source, but unattended heaters can be dangerous. A smart space heater you can control from your phone is not only safer but will give you peace of mind every time you leave the RV. 
Collapsible two-in-one suitcase: If you're an RVer who's still traveling around with a chunky suitcase taking up that precious air space of yours, consider a multi-use bag. Search for one that serves several purposes, like a day pack and a suitcase.  
RV Hack Your Own Way
Hacking camper life is a fun part of the adventure on the road. Always keep your eyes open for ways to make your camper life cooler, hipper, and trendier. You'll bring your camping experience to an exciting new level.
And when you're not on the road, why not share the camping experience with other people?
P.S. Want RV insurance that'll save you $$$ and let you rent out your rig? Head to Roamly.com for an instant RV insurance quote.