There's nothing quite like whipping up a great home-cooked meal on the grill when you're out camping. However, you can't always rely on every campsite to have a grill or a fire ring to cook over. This is where a portable RV grill comes in handy. With an RV grill, you'll always have a way to cook those burgers, steaks, or grilled veggies!
We've got a list of the top five grills for RVing, as well as a few helpful tips on how to find a good one if these five don't fit your needs. 
Top Five RV Grills 
These five grills are smokin' and can cook all of the RV dinners of your dreams.
Best All-Around RV Grill: Coleman RoadTrip X-Cursion Propane Grill
Looking for a versatile grill that can do it all? Look no further than the Coleman Roadtrip X-Cursion Propane Grill. The grill features button ignition, EvenTemp technology, and two adjustable burners. It sits on large wheels and steel legs that fold for easy transport and also has a small side table attached, perfect for food prep. This grill offers 285 square inches of cooking space and is powered by the small, 16.4 oz propane cylinders. It's compact and easy to tote around but gives you the space and heat to cook the meals you want.
Cooking area: 285 sq. inches
Price: $219.99
Best Compact Grill: Solaire Everywhere Portable Infrared Propane Gas Grill (SOL-EV17A)
If space is an issue and you need to pack light, the Solaire Everywhere is the perfect one for you. At only 15 pounds, this grill is fairly light compared to other larger tabletop grills. This model is equipped with push-button ignition and uses a 1-pound propane cylinder, but can be connected to a 20-pound tank with an adapter. Though compact, it has 140 square inches of grilling space, which can fit around six 4″ burgers. 
Cooking area: 140 sq. inches
Price: $397.00
Best Electric Grill: Weber Q 2400 Electric Grill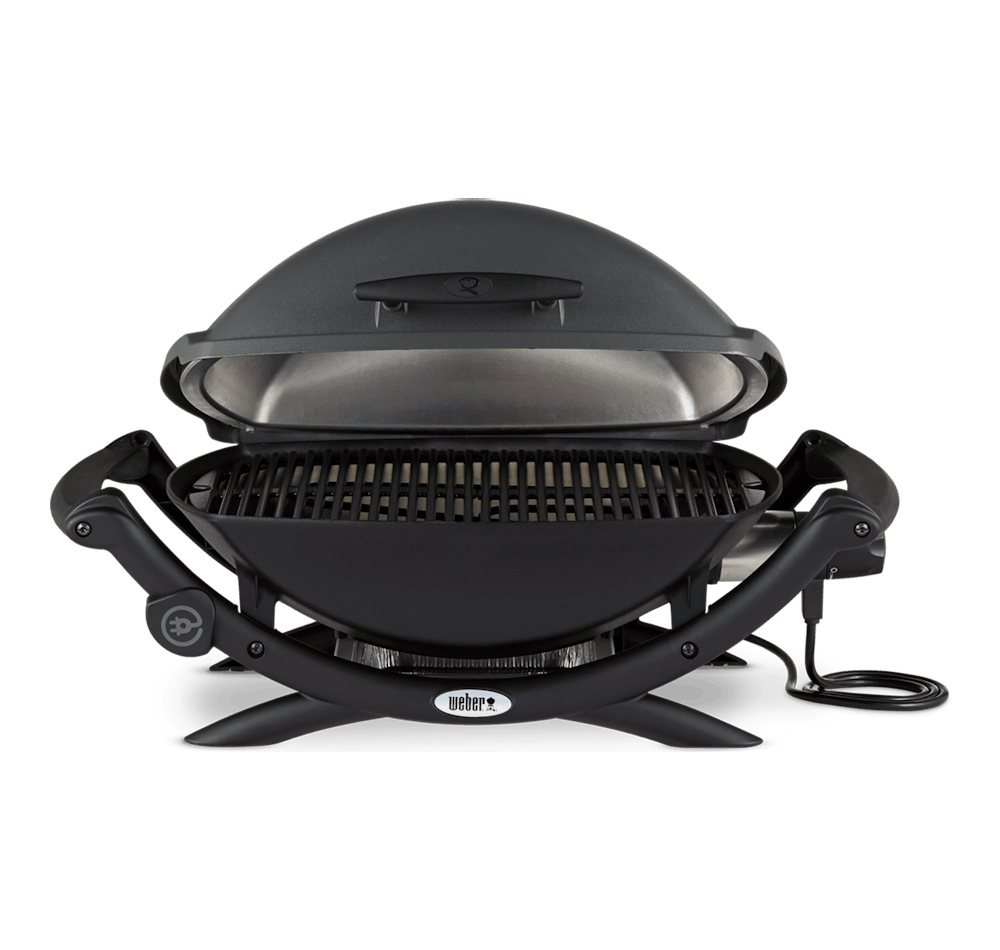 Unlike a propane or gas grill, all you need for an electric grill to work is an electrical outlet. There's no need to tote around a propane tank or cylinder if you're planning on staying close to an electric source. They're safe, easy to use, and noted as being the healthiest way to grill. Weber, a popular name in barbecue pits and gas grills, has come out with an electric model with 280 square inches of cooking space. With aluminum lid and body, glass-reinforced nylon frame, and porcelain-enameled cast-iron grates, this electric grill is one that will last if taken care of. 
Cooking area: 280 sq. inches
Price: $399.00
Best Propane Grill: Weber Q2200 Liquid Propane Grill
Gas grills, which are powered by propane, often offer more features than charcoal or electric grills. They give a great authentic flavor and cook food quickly. Like Weber's electric grill, their durable, lightweight, and portable Q1000 is a great RV grill for those wanting to use propane. The grill can run on propane cylinders or a larger tank when using an adapter.
Cooking area: 280 sq. inches
Price: $329.00
Best Charcoal Grill: Cuisinart GrateLifter Portable Charcoal Grill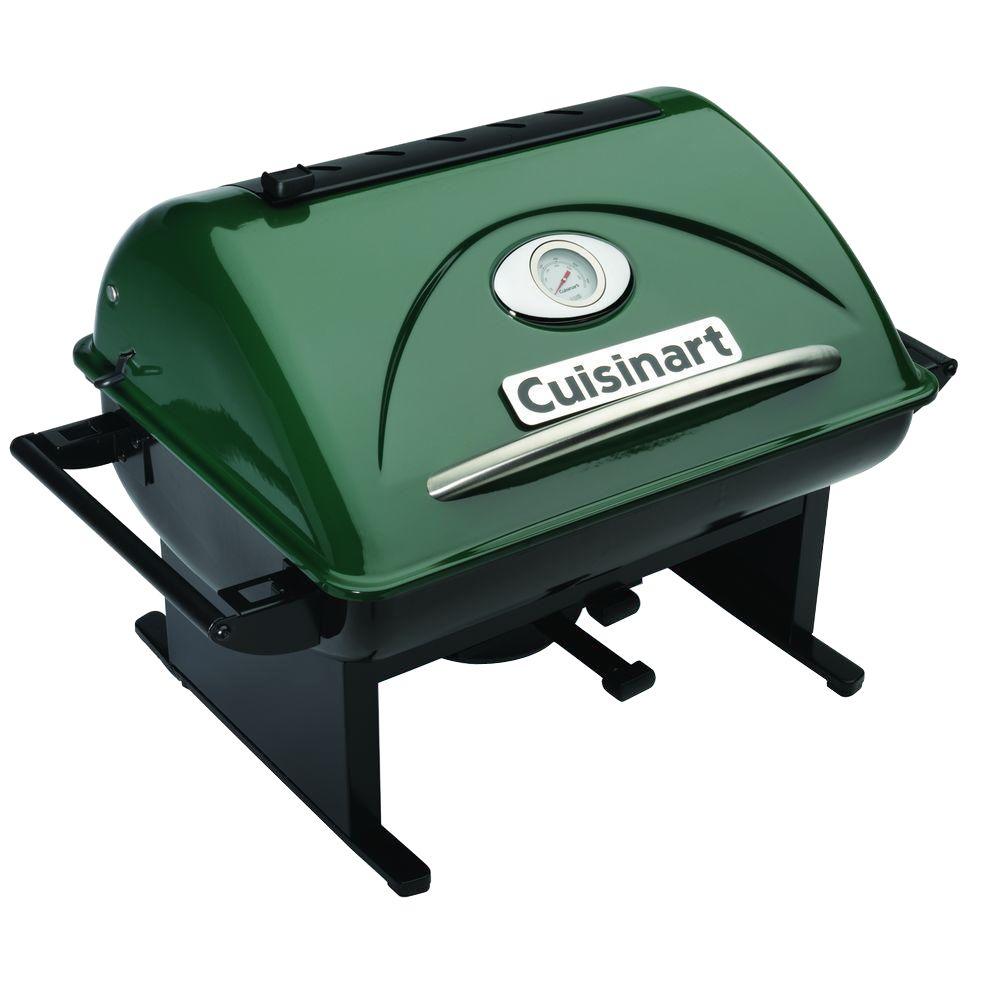 For those who are looking for maximum flavor with their grilled food, nothing beats that classic smokey taste of foods cooked over a charcoal flame. Though these take the longest to heat up, charcoal grills give users the authentic outdoor grilling experience. The Cuisinart GrateLifter has a spacious cooking area, a precision airflow system for temperature management, and a large ash collection bin for easy cleaning.
Cooking area: 240 sq. inches
Price: $145.91
If none of these grills speak to you, that's okay! Here are a few tips for finding and using a portable grill.
Finding the Grill That's Right for
You
The most important thing to consider when buying a grill is to get one that has what you need. What works for your friend may not be the best one for your unique situation. Here are some things to consider when purchasing your grill:
How many people you're feeding:

Maybe you plan on cooking for a bunch of friends every night on the road. The grill you need will probably be different than the best option for a solo traveler. If you're feeding more people, the bigger the grill you'll want to have. 

Where you'll be camping:

Will you have access to electricity, or do you camp boondocking-style? For those spending time in the wilderness, propane grills are your best option.

What sort of foods you will be cooking

: Plan on using your grill to cook a variety of items? You'll probably want to invest in a grill with multiple burners and a warming area.
No road trip is complete without great food. Take the time to find a grill that fits your budget, storage space, and culinary needs. Now we're cookin'!