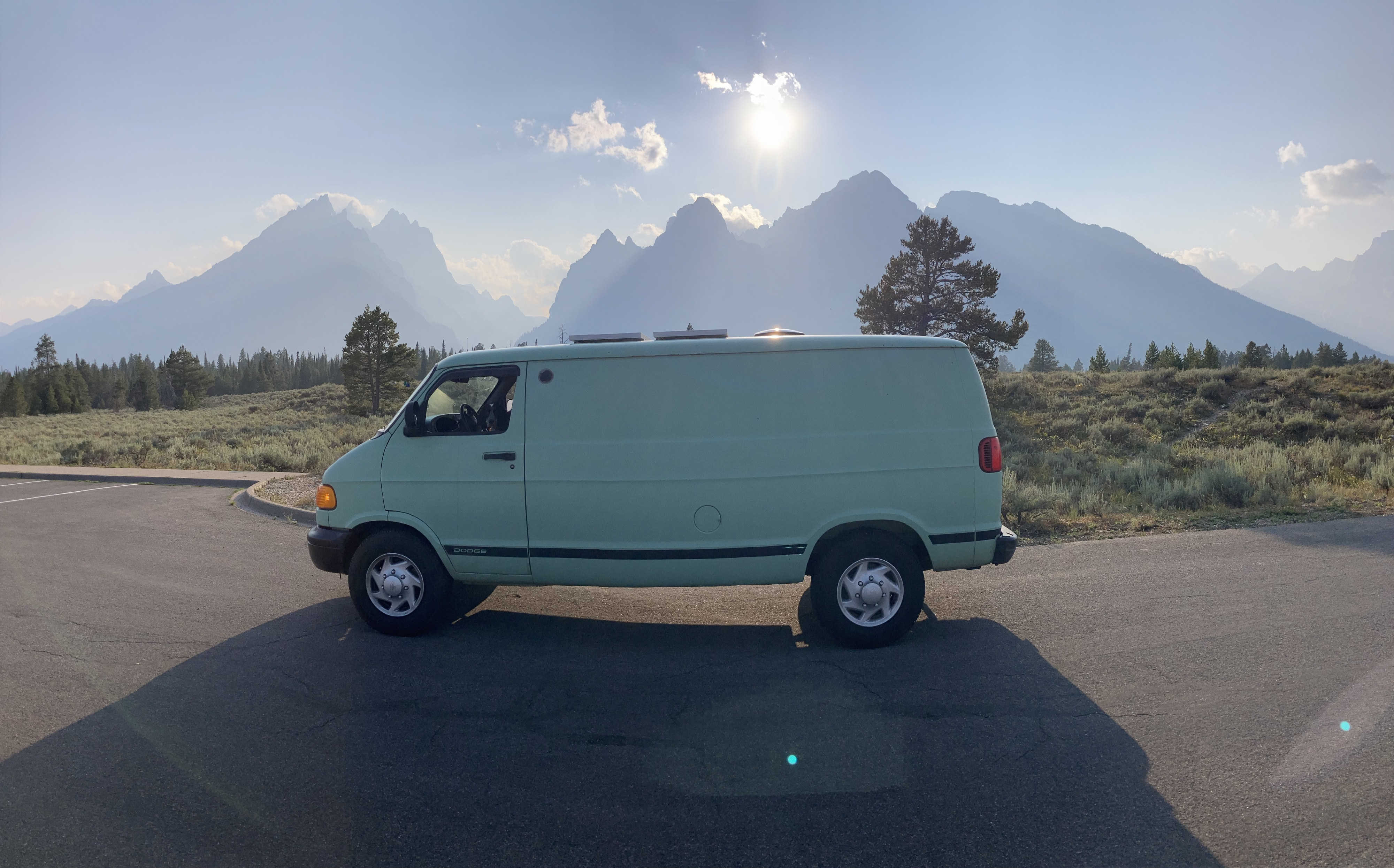 5
Outdoorsy member
Host since May 2021
---
---
87% response rate
Typically responds in less than 12 hours
About Zane Heather
Howdy! My name is Zane, and I am the proud owner of the Green Machine! The Green Machine has taken me and my family (girlfriend and puppy) on adventures near and far. When we are not living our best van life, we reside around Washington, D.C. We love exploring as much as we can, and experiencing nature however possible! We can't wait to share our adventure wagon with you, and would love to help make your trip as amazing as possible. Please don't hesitate to reach out with any questions! Safe travels!
5
Outdoorsy member
Host since May 2021
---
---
87% response rate
Typically responds in less than 12 hours
---
Memories made on trips with Zane Heather's RVs
---
The van was awesome to stay in for the weekend while I went to Firefly Music Festival! Zane generously provided many things for us to use while on our trip, including cooking utensils, lights, basic cleaning supplies, and more. Zane was very helpful from before the trip even started up until even after we dropped the van back off. He thoroughly explained everything we needed to know about the van upon our arrival. I was able to keep in contact with him during the whole trip and he gladly helped with any questions or problems I ran into. Zane and the Green Machine made my weekend at the festival absolutely amazing!
Zane's answer
Yayy! Happy you enjoyed it, Alexis! You are always welcome to rent the green machine in the future!
2 Photos submitted by Alexis W.
Zane Heather canceled the booking 6 days before departure. This is an automated posting.
Enjoyed a short camping trip in the Green Machine. Handled the Blue Ridge Mountains well, even in the rain. Comfortable bed a huge plus. :)
2 Photos submitted by Laura L.
We had an awesome road trip through West Virginia in Zane's Green Machine, and the van is now certifiable as toddler-proof! It was great to drive, both on the highway and on the forest roads of WV, and the compact but convenient layout meant that my 13 month-old could romp around whilst also being in arms reach, to keep him out if trouble. We appreciated Zane's flexibility, relaxed approach and excellent communication throughout, and this has been an excellent first experience with Outdoorsy. We hope to be back for another trip in the Green Machine soon - Life is Better in the Mountains!
6 Photos submitted by Jack C.
Zane was fantastic to work with. The Green Machine is just that, Green, and a MACHINE. We took the van all around the Mid-Atlantic, through windy mountain roads and it never missed a beat. Couldn't recommend more highly.
Zane Heather canceled the booking 3 days before departure. This is an automated posting.
Zane's answer
Cancelled due to needed maintenance on the solar array
My 1.5 year old Irish Setter Lucas & I loved our trip in the Green Machine! Zane was extremely helpful in every way. He introduced us to the Machine thoroughly & carefully. He was then available throughout the trip when needed. The Machine is easy to drive & even though Zane describes the driving as being "floaty" at speeds of 65-70 MPH I did not have any problems at those speeds. Zane provides dishes, cutlery & pots & pans. The bed was super comfortable. We spent 3 days in the Pine Barrens at a semi-primitive campground, the rest of the time we stayed with my family in North Jersey & my college roommate in South Jersey. And one night in a Cracker Barrel parking lot :). We were the only ones at the campground in NJ! It was so much fun. And we took a ride on the Cape May-Lewes ferry. The Machine took it all like a champ!
Zane's answer
Thank you for your review, Darlene! You were a fantastic renter and the green machine is open to you anytime! I'm glad you had fun!
4 Photos submitted by Darlene M.
We had a great trip to Asheville in the Green Machine! Zane was super communicative and helpful
Zane's answer
Thank you, Erin! You all were great renters!
I loved camping with the Green Machine. And any questions or concerns that I had were promptly addressed by Zane. Zane is a kind, easy-going host who made sure we were ok throughout our trip. I look forward to renting The Green Machine again!
Zane's answer
Thank you, Amina! You are always to rent with me again. I will also be recommending your great beach camp site on Hipcamp to my renters: Muvaland
1 Photo submitted by Amina G.
We had a wonderful experience camping with the van!! Zane was super nice to accommodate us and explained the process in detail. It's an older van but we had no problem driving it. It had everything we needed for a short weekend getaway.
Zane's answer
Thank you, Lilian! I'm glad you had a good time. The van is always available to you and Pat, I hope you enjoy your new home in the area!!
1 Photo submitted by Lilian V.
Caitlin O.
0•December 2021
Zane Heather canceled the booking 5 days before departure. This is an automated posting.
Kathryn B.
5•November 2021
Zane's answer
Thanks for the rating, Kathryn!
Had a great time in Falling Water. The bed is so comfy! Perfect getaway for one or two :) Zane was great and explained everything in detail. I felt so comfortable with the process.
2 Photos submitted by Lauren G.
We had an awesome time in Zane's van! We loved the fun vintage vibe and were super comfortable the whole time. The mattress was one of the most comfortable we've ever slept! We would highly recommend Zane's van for anyone looking for an awesome home away from home