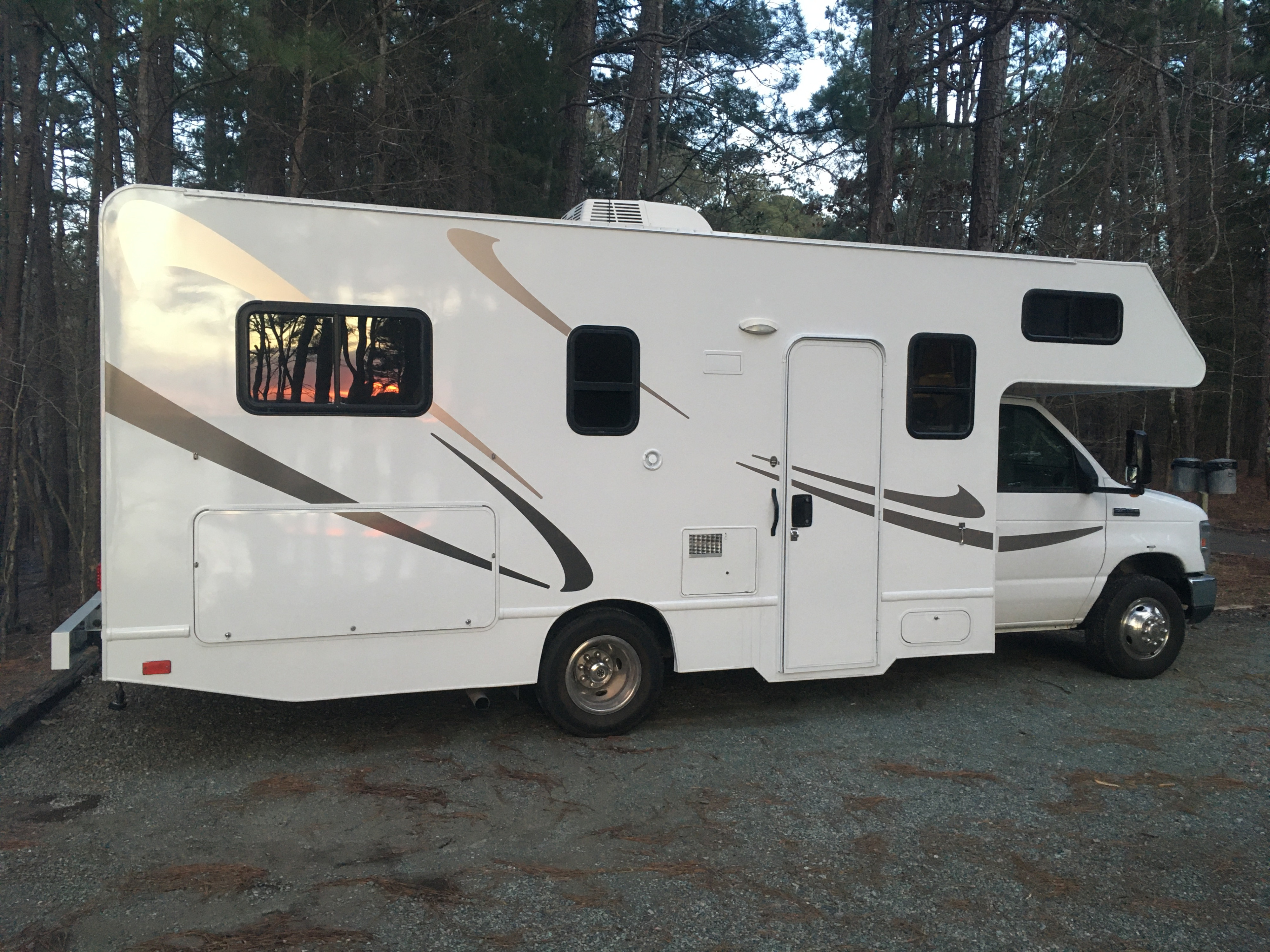 5
Outdoorsy member
Host since July 2020
---
---
98% response rate
Typically responds in less than 12 hours
About Meghan Murray
Hi, I'm Meghan! I'm a teacher in the Greater Boston area, and have always had dreams of owning an RV and seeing the sights from the comfort of my own "home". During the pandemic, I decided that it was time for me to turn all those obstacles into opportunities, so I bought my first RV! I picked #Trudy up in Florida and spent the next month exploring and teaching from the road. I don't know if I'll ever have the opportunity to teach from the road again, but if I do I'll definitely bring my cat Zola (short for Gorgonzola) with me. My favorite thing about traveling in #Trudy is that I could be in a new place every day and still feel like I had the comforts of home around me. What a joy! I can't wait to get back on the road again, and in the mean time, I hope you can #BeTrudyYourself and have an adventure of your own.
5
Outdoorsy member
Host since July 2020
---
---
98% response rate
Typically responds in less than 12 hours
---
Memories made on trips with Meghan Murray's RVs
---
Meghan is an exemplary host - advance communication was responsive, pickup was a breeze, and she was attentive and proactive when we had a few hiccups along the way. Our time with Trudy was a blast and we would definitely work with Meghan again!
Meagan was very helpful with the reservations and the operation of the RV. Trudy was very easy to drive, my wife and I took turns at the wheel. We will definitely rent Trudy again from Meagan. Very supportive. Thank you, Meagan, hope to see you again in 2023.
Trudy was wonderful!!! Meghan the owner is amazing and has speedy communication. We had an amazing trip because of her
Kirsten E.
5•September 2022
Great experience!
Everything worked.
Hot water A+
the queen bed A++++ I only used the queen bed
Heat A+
Fridge A+
Elizabeth F.
5•September 2022
We had a wonderful trip up to Thomas Point Beach and Acadia in Maine. Trudy was comfy and cozy for the 3 of us, plus she handles really well on the road compared to other RVs we've rented. A smooth, easy ride.
Meghan is an extremely nice and pleasant person, very helpful. Took time to explain everything, very responsive. Had a great time with Trudy in Acadia! Kids loved it. Thx Meghan!
Meghan's answer
Thanks Markus! Trudy loves Acadia, and I'm glad you were able to give her another excuse to make the trip. I hope to work with you again some day!
We had a wonderful experience with Trudy. Meghan was helpful from the very beginning and was flexible through the whole process, including accommodating an earlier than expected return window. Trudy was perfect for my family of 5. We had 3 kids (13,10,8) with us so one slept on the dinette and the other two above the cab. The generator/fridge/AC/driving parts all worked as they should and we didn't have any issues with any of it.
We slept comfortably everywhere except the places that we didn't have AC and weren't allowed to use the generator- there wasn't a lot of airflow for us. This doesn't lose any marks against Trudy, just something to keep in mind for planning.
We drove Trudy to Montreal/Quebec City/Prince Edward Island/Bay of Fundy and Acadia. Wonderful trip with wonderful memories.
Meghan's answer
Thank you so much, Angela! I'm so glad you and your family made such wonderful memories in Trudy. It was a pleasure working with you!
3 Photos submitted by Angela P.
Meghan was really accommodating and helpful both prior and during the trip.
Trudy held up her end of the deal as well taking us all the way to Acadia National Park and back.
Would recommend both of them with any hesitation.
Meghan's answer
Thanks for the review! I'm so glad you had a good trip.
5 Photos submitted by Nicolas B.
I had a wonderful first time experience with Trudy! It was a perfect size for me as a solo traveler and I loved the cozy corner bed at night soaking up all the night sounds. She was easier than expected to drive and I felt very comfortable. Megan was quick to respond and very helpful with any questions I had.
Meghan's answer
Thanks, Steph! I'm so glad you had a good trip. I hope we get to work together again some day!
2 Photos submitted by Stephanie S.
Trudy and her owner Meghan were great:) Even when the roads were up, down and felt like sidewise in both Pennsylvania and West Virginia, Trudy held firm! It was a great road trip from start to finish.
2 Photos submitted by C D.
*Trudy* and Meghan were great hosts!
This was our first experience with an RV ever and Meghan helped ease all of our concerns. She made using the RV simple and fun!
Meghan's answer
Thanks, Amber! Renting Trudy out to people with kids is a special type of fun, and I'm so glad the experience was a fun one for all of you. I'd love to work with you again some day!
2 Photos submitted by Amber E.
Meghan made the whole rental process super easy, organized, and fun. RV Trudy is a great camper. Comfy, easy to drive, stocked, everything worked, and right sized. I highly recommend.
Meghan's answer
Thanks for the review, Chris! I'm so glad you had a great experience in Trudy. Here's hoping we meet again!
2 Photos submitted by Chris O.
Joshua S.
5•September 2021
We really enjoyed our experience with Trudy. It was the perfect size for two adults, and even though there were some travel quirks (a water tank leak, a high toilet...) Meghan helped make our time with Trudy as seamless and relaxing as possible with a comprehensive check in, well stocked linens, extra bathroom amenities, etc.
Meghan's answer
Thanks for the review, Josh! It was great getting to meet you and Tawnie. I'm so glad you had an awesome vacation!