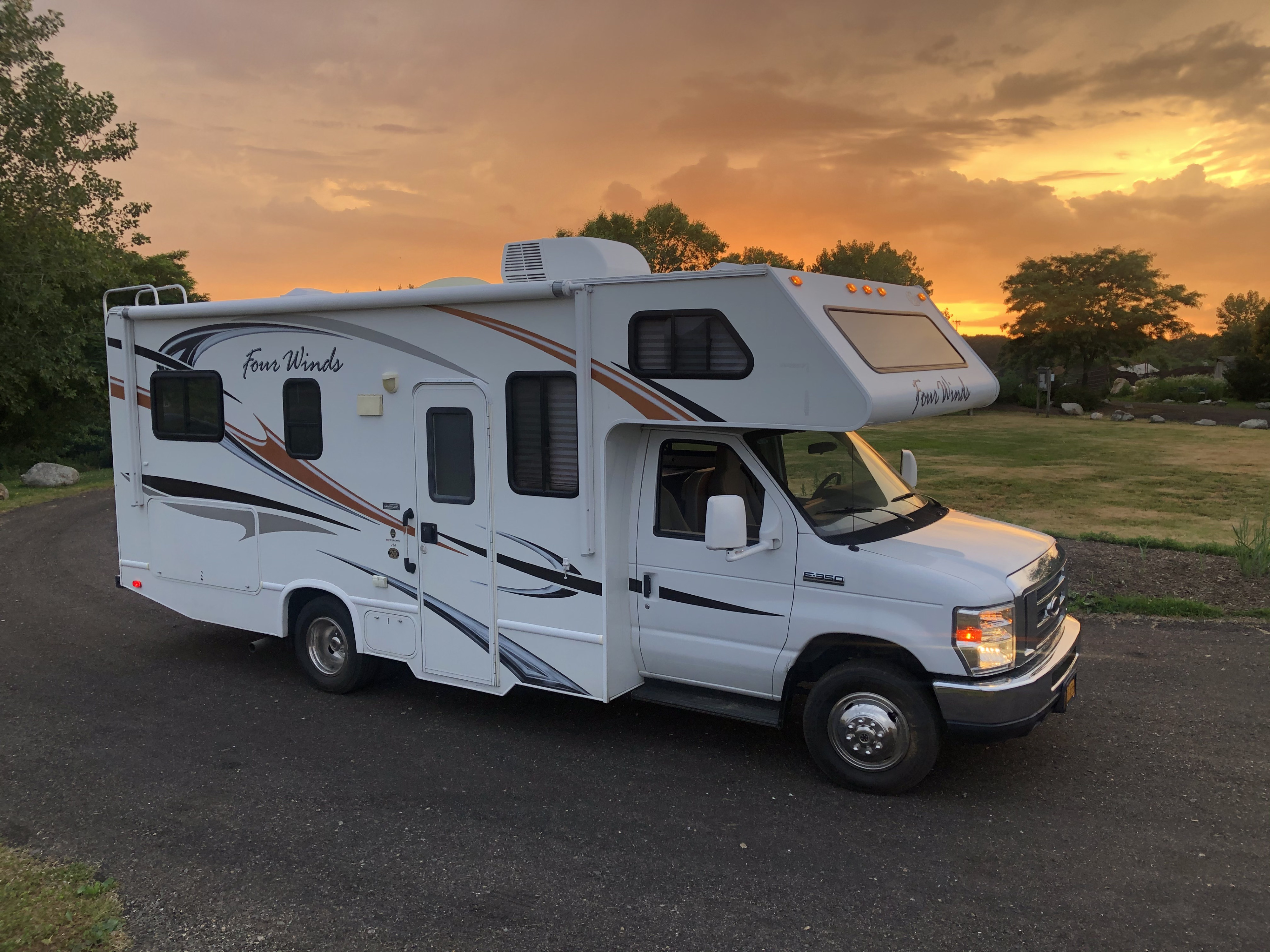 5
Outdoorsy member
Host since June 2020
---
---
100% response rate
Typically responds within an hour
About Matthew LaSota
Weekend warriors who enjoy big road trips as much as we like just taking our rig to the beach for a dinner! Two kids, giant dog!
5
Outdoorsy member
Host since June 2020
---
---
100% response rate
Typically responds within an hour
---
Memories made on trips with Matthew LaSota's RVs
---
We had a great time camping over Columbus Day weekend. This was our first time in an RV. Matt did an excellent job walking me through the ins and outs of setting it up and I had no issues running all of the appliances, etc. Would definitely do it again.
Matthew's answer
Thank Peter! Glad you had good time. Great to meet you!
Renting from Matt was so easy. He was super responsive the entire time. He answered questions before the trip and made sure we fully understood how everything in the RV worked. We had an amazing time with our grandkids. The bed was comfortable and we had everything we needed for the week. Thanks for sharing your home on wheels with us!
Matthew's answer
Thank you so much, Sue! We loved meeting you guys and were glad to have your family as our guests!!!!!
The "Shoreline Explore" is amazing! It is so well stocked with everything you can want. I always over pack expecting kitchen/camping essentials will not be there. Everything I wanted I found. Love the cast iron, the portable gas grill, the iron cook grate. Little things like can openers, corkscrews, sharp knives were all there. Unexpected things like an axe, tools, and a high end solo fire pit were all in the huge storage area underneath. Trust me, other rigs do not include these as I went with five families who also rented RV's. Matthew was an outstanding communicator, and very timely with his responses. Training was great for a pop up camper guy. Honestly the best experience I could have hope for a first time RV renter with no prior experience.
Matthew's answer
Thanks, Bob! You guys were the best and it was a pleasure meeting you!
Great communication and couple!

As first time renters we were pleasantly surprised at just how much we enjoyed the RV! Upon pickup the owners were extremely helpful and explained all of the particulars. The RV was very clean and ready to go. The ride was smooth, the seats were comfortable, beds were cozy and the heat worked out well on the cold nights. Everything was in good working order and we can not wait to rent it again!
Matthew's answer
Thanks, Ryane! Best to Keith, glad the trip was a success.
4 Photos submitted by Ryane Q.
Kristina R.
5•September 2021
I cannot say enough nice things about Matt, Nicole and our incredible experience in their RV. They are extremely communicative and ready to help with every little thing. The RV is equipped with the fun stuff, the boring (but necessary) stuff, the things you forgot to take and the things you never thought to take. It drives beautifully. This was a great choice for our first RV trip and we look forward to contacting Matt and Nicole for our next adventure. 
Matthew's answer
Thanks Kristina, it was our pleasure. Fingers crossed that your dad gets his solo stove sooner than later!!!!!!!!
Matthew was a great host. He was very responsive to all of our questions before and during the trip. The camper was very clean and easy to use (love all the numbered compartments and the binder showing where to find everything!). It was stocked with almost everything we could possibly need for our trip - although an electric coffee maker would be a nice addition. Thanks for a stress-free experience and we look forward to renting from you again.
Matthew's answer
We were so lucky to have you guys! Hoping to see you next year!!!!!!!!
3 Photos submitted by Susan B.
Theresa A.
5•September 2021
The RV had everything we needed, including nice extras like a solo stove. Matt was great to work with!
Matthew's answer
Thanks Theresa! Hope you guys had the best time!! Glad Owen enjoyed the top bunk as much as he did!!!!!
We had an A++ trip. Matt and the RV were great. We will be back to rent again as soon as we can. The RV was clean and ran great. It was the perfect size for us (family of 4) and not too big for first timers. Thanks for a great vacation!
Matthew's answer
It was our pleasure, thanks for all the pictures! Give our best to Michelle and the girls, hope they had a blast!!!!!
4 Photos submitted by Michael D.
Easy to drive rig. Matt was very quick to respond to my many questions before the trip, and equally responsive during the trip when I couldn't figure out a couple of things. Also he was able to be flexible with pickup/drop-off times which helped me a lot. Nice, easy-going guy. We had a small issue with a leaky window, but the rain was an absolute monsoon one night. And one burner on the stove wouldn't light but it had 3 burners so was no impact to us. Only real problem was having only a 25 foot hose for the water hookup so we had to go to the next town and purchase an additional 50 foot one. And we could probably have avoided that issue if I'd read the fine print about the campsite which stated we might need up to 100 feet! Matt subsequently offered to buy the new hose from me so that had a happy ending too. All in all we had a really good long weekend at the beach!
1 Photo submitted by Jeanie I.
This RV rental was a wonderful experience from start to finish. Matt and made certain that everything was ready to roll. He is an owner who double checks everything and insists on making it right for the renter. Matt was also extremely communicative throughout our entire trip. He was able to text as well as talk. This was beyond helpful when we had questions. I would recommend Matt and his RV to anyone looking for an honest owner with a reliable RV. Thank you Matt. I hope to rent again from you this coming October.
Matthew's answer
Glad we were able to get our rig to you despite the setbacks along the way! Awesome to have you as a guest! See you soon!
1 Photo submitted by Matthew S.
Matthew LaSota canceled the booking 7 days before departure. This is an automated posting.
Matt and Nicole where extremely helpful and nice. Nicole set us at ease by going over all the details before we left. Matt was very helpful during the trip with quick responses to questions, and problem solving. The whole process was much smoother than I anticipated. I would do this again for sure.
1 Photo submitted by William C.